Special items are things that you can buy for gold in game. They give extra damage, restore food, gifts limits. Special items that gives damage bonus works for 24 hours, but after those 24 hours you will get debuffs that will reduce your damage for 24-72 hours.
Buffs and debuffs
You can see your buffs and debuffs in you profile under your avatar image.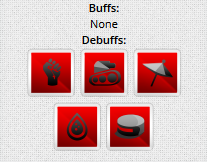 You can also see you purchase history above all those buffs in Market -> Special Items.

Special Items
| Icon | Name | Information | Price |
| --- | --- | --- | --- |
| | Steroids | Increases damage done by 20% for the next 24 hours. However, decreases damage done by 20% 24-72 hours after using steroids | 0.8 Gold |
| | Tank | Increases damage done with Q5 weapon by 20%. However, you can't use weapons 24-72 hours after using the tank | 0.8 Gold |
| | Extra spa | Instantly restores 10 gift limit. However your gift limit won't be updated during the next day change. You can't use this item while having more than 20 gift limit | 0.8 Gold |
| | Extra vacations | Instantly restores 10 food limit. However your food limit won't be updated during the next day change. You can't use this item while having more than 20 food limit | 0.8 Gold |
| | Bunker | You get +25% damage when defending your core region for the next 24 hours. However, decreases damage done by 20% 24-72 hours after usage | 0.8 Gold |
| | Sewer Guide | You get +25% damage when fighting on the resistance side in resistance wars of your home country for the next 24 hours. However, decreases damage done by 20% 24-72 hours after usage | 0.8 Gold |
| | Pain Dealer (Special occasions) | The pain dealer doubles your critical hit chance. It can combine with eq and events. chance may be maximum 80%. You can buy it on auctions and it has no debuff | auction |
| | Bandage ABCDEF (Hospitals) | Bandage restores health. You can use bandage size A/B/C/D/E/F once per hour/ two hours/ four hours/ seven hours/ eleven hours/ sixteen hours. Awarded to defenders of regions with hospitals | auction |
| | Camouflage I, II, III | Camouflage helps you avoid damage, you can use it for twenty five hours. This high class of camuflage will give you 40% / 20% / 10% higher chances to avoid damage (max avoid will still be 40%) | auction |
Note:
the medkit is an special object