Introduction
E-sim is a free game and everyone is welcomed to play it without paying any money. However, If you are a fan of E-sim, you may order subscription of premium account.
Using the premium account gives you the access to some interesting information and useful features. Premium account is available for sale via Paypal at the price of 4.99 EUR per 15 days or at 20 Gold per 7 days. In addition other players will be able to see prestigious star on your profile page. By buying premium account you also support us and help in further developing E-sim!
Features:
-Your country tax income statistics (only visible to congress members).

-Battle monitor - shows nationality of citizens who are spectating or fighting in selected battle.
-Monetary market transactions history.
-Companies production reports - additional tools to calculate profitability of your companies.
- premium account shortens debuff of certain special items by 50%
-Broadcasting messages in Military unit (only for players with privileges set by leaders).
-Access to the view with more information about subscriptions and votes in your articles.
-Money supply of your country (only for congress members).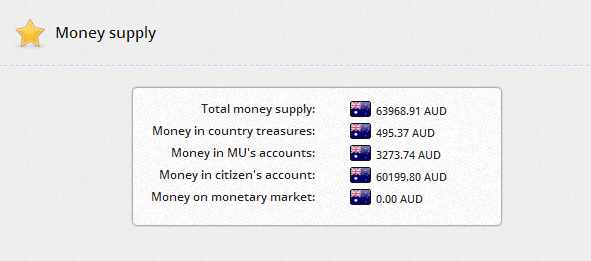 -Detailed tax income of previous day (only for congress members).
-Broadcasting messages for party leaders.
-Removed advertisement.
FAQ
Is it possible to pay using a credit card?
- Yes - You just need to create Paypal account, link it with your credit card and make an ordinary payment using your Paypal account.
Can I buy premium account for my friend?
- Yes, you can buy subscription of multiple accounts using your own account. You just need to provide the name of your friend account while making a subscription
Will I lose my premium account if I cancel subscription?
- Not instantly. Canceling subscription means, that your Paypal account won't be charged automatically every 30 days. If you cancel subscription, you will still have premium account before it expires
I've got another question...
You can ask it on the forum.