Oil in general
Oil is raw material used in ticket companies. To use oil in your company, all you need to do is simply have some in your inventory.
Oil is produced in oil companies. You need to create a oil company in a region that has medium or high oil deposits.
Buying oil
If you do not have the means of producing your own Oil (i.e. by owning a oil company), you can buy them on the product market.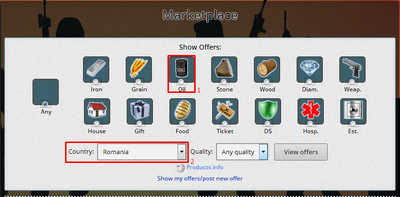 Simply follow these steps: Market » Product Market » Select Oil(1) » Choose the Country(2) from which you whould like to buy them » Click on View offers » Buy the required amount
Regions rich in oil
There are 10 high and 12 medium oil regions at the moment.
High oil regions
Crisana Banat (Romania)
Veneto (Italy)
Marmara (Turkey)
Mahilou (Belarus)
Northwest China (China)
Pahang (Malaysia)
Saxony (Germany)
Tarapaca (Chile)
Boka Kotorska (Montenegro)
Waikato (New Zealand)
Note: Boka Kotorska is only available in secura server.
Medium oil regions
Companies located in medium regions will give 25% less productivity in comparison to companies in high regions.
Balochistan (Pakistan)
Black Sea Coast (Ukraine)
Fars (Iran)
Judea and Samaria (Israel)
Nord-Norge (Norway)
North-west Ireland (Ireland)
Slovenian Littoral (Slovenia)
Southern Honshu and Shikoku
Tucuman (Argentina)
Western Finland (Finland)
Vlore (Albania)
Varna (Bulgaria)
Community content is available under
CC-BY-SA
unless otherwise noted.