Newspaper
Every citizen above level 4 can create a newspaper and write his own articles.
Writing articles is an excellent opportunity to express your feelings, make an announcement or to do business.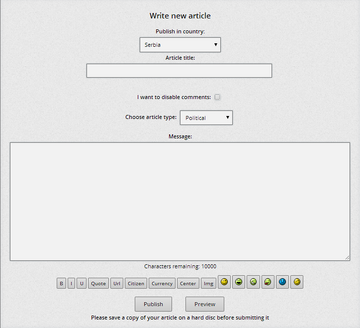 Creating A Newspaper
Creating a newspaper costs 2.00
To create a newspaper you need to be level 4 or higher
You need to provide a unique newspaper name and an avatar (optional)
Writing An Article
You can only write one article per hour
You can select which country your article will be published in e-sim
You can use BBCode in your articles
You can choose article type too which is a new update
You can place Images in your articles
You can add url's by adding a [url]text[/url], citizens by adding a [citizen]name[/citizen] and several similar features.
Players with Premium Accounts are able to see who has voted and subscribed to their newspaper, as well as country statistics.
Subscriptions

Other players can subscribe to your newspaper using the subscribe button
Players that subscribe to your newspaper will receive a notification in their subscriptions tab when you write a new article
You will receive a Media Mogul Medal for every 100 people that subscribe to your newspaper.
Community content is available under
CC-BY-SA
unless otherwise noted.