Diamonds in general
Diamonds are raw material used in gift companies. To use diamonds in your company, all you need to do is simply have some in your inventory.
Diamonds are produced in diamond companies. You need to create a diamond company in a region that has medium or high diamond deposits.
Buying diamonds
If you do not have the means of producing your own diamonds (i.e. by owning a diamond company), you can buy them on the product market.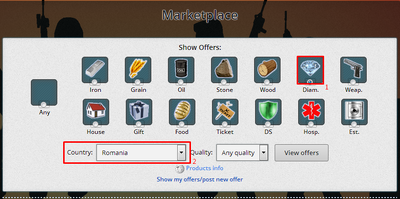 Simply follow these steps: Market » Product Market » Select Diam.(1) » Choose the Country(2) from wich you whould like to buy them » Click on View offers » Buy the required amount
Regions rich in diamond
There are 33 high and 28 medium diamond regions at the moment.
High diamond regions
Agadez
Al-Wusta
Aswan
Bie
Bolikhamsai
Eastern Transdanubia
Ghanzi
Gracias a Dios
Haut-Mbomou
Kakheti
Lithuania Western Highland
Lori
Makamba
Manchuria
Mindanao
Nimba
North Amazon
North Western Sri Lanka
Orinoquia
Pando
Punta Arenas
Sandaun
South Emirates
South Thailand
South-east Ireland
Southern
Serbia
Surkhondaryo
Svalbard
Tibesti
Tucuman
Tyrol
Wales
Waikato
Western India
Medium diamond regions
Ahmadi
Anosy
Arta
Bar
Castile-La Mancha
Central Ukraine
Central Yemen
Chiriqui
Damascus
Doukkala-Abda
Eastern Vidzeme
Gambel
Jamtland
Kasungu
Kenyan Coast
Khovsgol
Manitoba
North Caucasus
Northeastern Cambodia
Northern Bosnia
Pardubice-Vysocina
Rajshahi
Sangha
Southeastern Taiwan
Southern Puntarenas
Upper Takutu
Western Zambia
Westmoreland
Community content is available under
CC-BY-SA
unless otherwise noted.